AlgoSec FireFlow

Security Policy Change Automation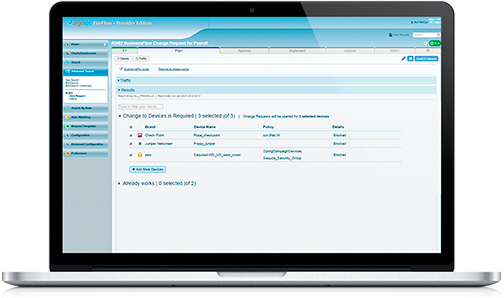 AlgoSec FireFlow helps you process security policy changes in a fraction of the time, so you can respond the business requirements with the agility that they demand. FireFlow automates the entire security policy change process — from design and submission to proactive risk analysis, implementation, validation and auditing. Its intelligent automated workflows eliminate guesswork and help you save time, avoid manual errors and reduce risk.
AlgoSec FireFlow Helps You:
Process firewall changes with zero-touch automation
Eliminate mistakes and rework, and improve accountability for change requests
Proactively assess the impact of network changes to ensure security and continuous compliance
Automate rule recertification processes
Enhance your existing change management system with intelligent network and security automation
Enforce compliance, and automatically document the entire change management lifecycle

Automate the Security Policy Change Workflow
FireFlow's role-based, customizable workflows automate security policy change processes, such as adding or removing rules and objects, recertifying rules and consolidating and tightening rules for better performance and security.

Intelligently Design Firewall Rules to Reduce Clutter and Complexity
FireFlow automatically discovers all devices and rules which are impacted by a change request. It then intelligently designs or updates any necessary firewall rules, utilizing existing rules and objects whenever possible to reduce policy clutter and complexity.
In addition, FireFlow instantly identifies and closes unnecessary ("already works") change requests, which helps prevent up to 30% of unnecessary changes.

Proactively Analyze Change Requests to Ensure Compliance and Mitigate Risk
FireFlow automatically analyzes every proposed change – before it is implemented – to identify risks and ensure compliance with regulatory and corporate standards.
FireFlow leverages the broadest risk knowledge base which includes industry best practices, regulations such as PCI-DSS, HIPAA and SOX, as well as corporate-defined policies.

Save Time and Avoid Manual Errors with Automatic Policy Push
FireFlow can automatically implement policy changes directly on a device. This zero-touch process saves time and prevents manual errors.

Prevent Unauthorized, Rogue Changes
FireFlow automatically validates the successful implementation of change requests to prevent premature closing of tickets. Additionally FireFlow correlates change requests with actual changes made to detect unauthorized changes and ensure that changes are implemented exactly as specified.

Track and Audit the Entire Change Lifecycle
FireFlow tracks every step of the change workflow, providing detailed reports that measure accountability and SLAs, and simplify auditing and compliance processes.

Integrate with Existing IT Service Management (ITSM) Solutions
FireFlow seamlessly integrates with IT Service Management (ITSM) solutions, such as ServiceNow, BMC Remedy and HP so you can continue to open change requests within your existing systems. FireFlow complements these systems with intelligent automation that enables you to process firewall changes more quickly and accurately.
---
Mailing Address:
ManageFirewalls.com
A division of Virtual Graffiti, Inc.
9979 Muirlands Blvd.
Irvine, CA 92618
Local: 949-328-2857
Sales: 844-960-3901
Fax: 949-266-9332
Our team is here to help you! We are available from 7am PST - 6pm PST and attempt to respond to all inquiries within 1 business day.
Please Note: Technical support is provided by the manufacturer. If you have a product support related questions, please contact the manufacturer directly.